Date Night in Eagan
Here are 11 offbeat ways to take date night to the next level, right here in Eagan!
Rockin' Jump – For your inner child
Feel like a kid again and get your wiggles out at Rockin' Jump Ultimate Trampoline Park. Take on the Ninja Challenge course with your honey.
Or make it a group date and organize a game of trampoline dodgeball!
Bowling – Hit the lanes
The incred-a-bowl Cedarvale Lanes & Fitz's is the perfect date night activity. A little friendly competition,
a delightful music and light show and yummy snacks to keep you bowling all night long!
Lebanon Hills – Hike, bike and explore!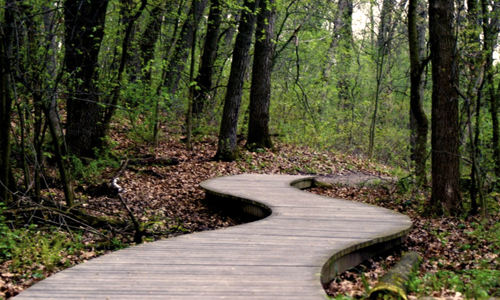 Quality time out on the trails with your favorite person! This 1,869-acre park and its 15 miles of trails are the perfect recipe for adventure!
Its size, accessibility and year-round facilities make Lebanon Hills Regional Park easy to love.
Jensen's Food & Cocktails – Romantic dining
Snag a candle lit booth for two at Jensen's and enjoy decadent food that's sure to delight!
Ásfólk Viking Martial Arts – Try something new!
Get ready for the Minnesota Vikings coming to Eagan through the authentic Viking Martial Arts workshop at Asfolk Viking Martial Arts.
Start with the Karl program (beginners class), craft classes or even a thrown weapons class for the daring couples out there!
Twin Cities Premium Outlets – Treat yo-self

Take your date out to Twin Cities Premium Outlets and spoil them with all kinds of goodies!
With 100+ stores, everyone is sure to find something (or someone) to love!
Bald Man Brewing – Brew for two
Check out Bald Man Brewing's event calendar for weekly events and to see when your favorite food truck will be serving up dinner!
They host Bingo on Sunday's and Trivia Tuesday's. From the novice to the craft brew fanatics, Bald Man is sure to be a home run!
The Volstead House Whiskey Bar & Speakeasy – Go back in time

If a speakeasy sounds like a ton of fun, that's because it is! Then again, don't take our word for it. Sneak your date in and enjoy The Volstead House's sexy menu and live music. Naturally, all while sipping on an out-of-this-world Old Fashioned.
Union 32 Craft House – Cheer for your team
Game days are always a good time at Union 32, grab a beer bucket with your special somebody! They have giveaways every quarter during football season and whenever the MN Vikings score 32 points or more EVERY guest gets a free 12oz beer!
Ansari's Mediterranean Grill & Lounge – Global cuisine and fun
Find yourselves lost in a Mediterranean immersion at Ansari's Mediterranean Grill & Lounge. Enjoy the lively entertainment of belly dancers
and live music over authentic Mediterranean dishes including Shish Kabobs, Falafel, Gyros and Shawarma.
The Mason Jar – Dessert? Yes please!
Do dessert first because you're adults and you can! Take your sweet-tooth sweetie to The Mason Jar to enjoy delicious Crème Brulee, Cheesecake or fan favorite 'If It Ain't Broke…' aka their signature dark chocolate cake, filled with chocolate mousse and covered with chocolate ganache. Mmmm!

So, what are you waiting for? Grab your date and get after it!
Try one or all eleven spots and share your experience with us via Facebook and Instagram using #EnjoyEagan!