Gluten Free Dining in Eagan
It's so easy (and tasty) to eat out in Eagan, even with dietary restrictions! Here are 7 delicious dining destinations that have you in mind when eating gluten free.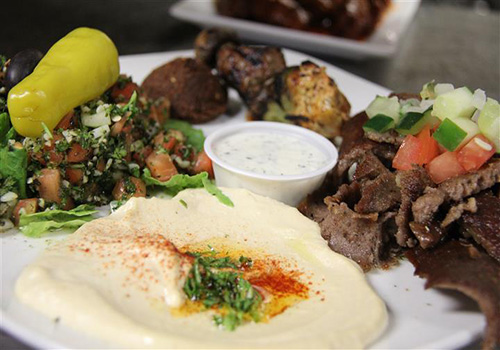 Ansari's is a neighborhood favorite and has been in business for over 10 years because of its delectable Mediterranean cuisine, entertainment and amazing service. The menu is chock full of gluten free options with mouthwatering meats, seafood and vegetables as the focal point. A popular and unique choice is Green Eggs and Lamb, which includes a half rack of lamb, two eggs sunny side up topped with jalapeno cilantro glaze served alongside Greek potatoes. Opa!
Famous for their signature, succulent wood-roasted meats, you don't have to miss out on the fiery goodness just because you're gluten free. The Spit-Roasted Chicken should be your go-to if you want the quintessential Doolittle's meal, but you can't go wrong with the Pan-Seared Scallops or Smoked Hanger Steak if you want to be a little more adventurous.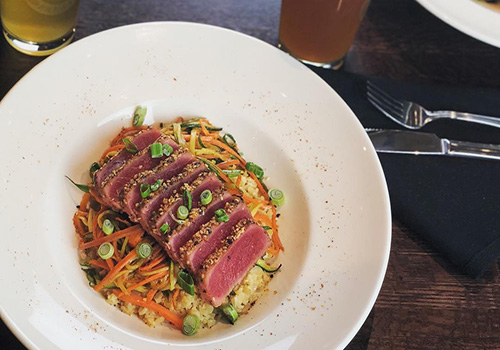 While Granite City is a popular brewery for all craft beer lovers, it's also a great spot to indulge in made from scratch food, including a vast gluten free selection! An all-time guest favorite is the City Wings, bone-in jumbo chicken wings available in Fiery Buffalo or Old Bay Dry Rub – perfect for sharing and getting messy with! If you prefer a more refined meal, the Spicy Sesame-Seared Ahi Tuna will please your GF palette.
One of Houlihans' monikers is "Life's too short to eat mediocre food." We couldn't agree more! That's why this list is nothing short of ordinary and it just keeps getting better. Houlihan's has its very own Gluten-Sensitive menu that features a variety of robust options including their famous Chicken Tortilla Soup, Grilled Atlantic Salmon and Margherita Flatbread. Head over to the Hou for happy hour for even more deliciousness at a cheaper price!
Jensen's is an institution here in Eagan. Known for being a wonderful place to celebrate special occasions, the romantic and classy joint also celebrates gluten free dining. More than half of Jensen's menu is GF including their Cedar Plank Salmon glazed with apricot mustard sauce or the famous Lobster Bisque – a warm and comforting start to a relaxing and delicious meal!
When we describe Mason Jar Kitchen & Bar, we think of words like 'classic', 'comfort food', etc. Most people don't associate comfort food with gluten free, but at MJK they combine the two into some amazing dishes! Indulge in pan seared walleye topped off with brown butter, lemon and parsley or go a little lighter with a roasted pear salad dressed with spiced nuts and bleu cheese. Don't forget that MJK has a bakery and guess what? They have GF cupcakes and macarons!
Another comfort food expert, Wyatt's specializes in "twisted' burgers that are out of this world. Have you ever had a BBQ Cheddar Flytrap or a Cajun Gator Burger? Well, you can have both at Wyatt's! With every sandwich, you can request a GF bun that is baked fresh!
Is your mouth watering yet? If not, take a look at our dining page for a place that suits you. With over 100 restaurants, including tons of GF options, eating in Eagan is easy and delicious!